The Road to Citizenship Begins with Preparation and Study
In the last decade, more than 7 million people were naturalized as United States Citizens granting them all the rights and privileges of citizenship. For many, the road to United States Citizenship can be blocked by fear – fear of the unknown, fear of the process, fear of the test, and fear about level of English proficiency are just a few of the things that can keep qualified applicants from attempting to become U.S. Citizens. Monty and Ramirez LLP is committed to helping community members successfully navigate the U.S. Citizenship process by offering free weekly citizenship classes and through a free newly-published educational aid, "Las Aventuras de Uncle Sam & Alex: De Camino a la Ciudadanía."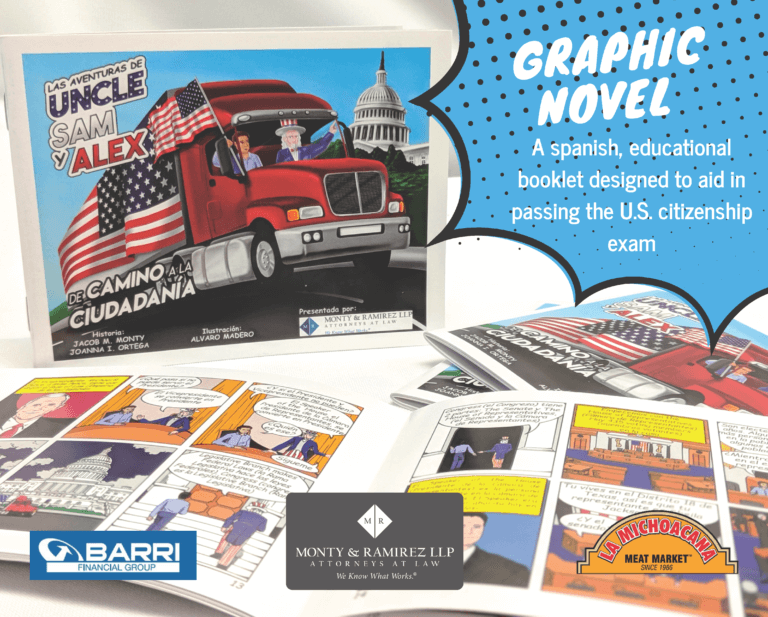 Published in partnership with Barri and La Michoacana Meat Markets, Monty & Ramirez's "De Camino a la Ciudadanía" is an educational booklet designed to aid Spanish-speaking immigrants to pass the U.S. citizenship exam. Set up in the form of an "historieta" (a story told in cartoon or graphic novel format) this unique resource allows the reader to follow the adventures of Alex and Uncle Sam through a fun & informational tour through U.S. history, explaining everything from the Declaration of Independence to Civil Rights.
"We have been offering citizenship classes for 10 years and we've had a very good record of enabling non-English proficient people to pass the exam," said Jacob Monty, Monty & Ramirez Managing Partner. "I grew up reading historietas. This is the type of document my family members used to read. It's a medium that many applicants are comfortable with and which brings the information down to a very understandable level. We believe that this will help people prepare for the test."
Print copies will be available to Houston-area communities through the Barri Financial Group outlets at select La Michoacana Meat Market stores and at the Monty & Ramirez headquarters, while supplies last. The publication also will be available as a digital file from the Monty & Ramirez website. The PDF version can be obtained by signing up for our Business Immigration or Family Immigration Newsletter.
Applying for U.S. Citizenship can cause anxiety and confusion. For additional information on the process, the free Monty & Ramirez citizenship classes, or any of your immigration needs, please contact the experienced attorneys at Monty & Ramirez LLP at 281-493-5529 or via email at info@montyramirezlaw.com.