Jacob Monty Joins Texas Association of Business Board of Directors
The Texas Association of Business (TAB), the voice for public policy issues affecting business in Texas, announces the appointment of Jacob M. Monty, managing partner of Monty & Ramirez LLP, to TAB's Board of Directors.
"I am honored and excited to be joining the TAB Board of Directors," said Monty. "As an active member, I have seen firsthand the impact TAB has on Texas business policies and legislation, and I am ready to help keep Texas a great place to do business."
TAB is on the front lines of legislative, regulatory, and judicial issues that impact Texas businesses; crusading to bring real solutions to real challenges for private-sector growth in Texas. As the Texas State Chamber of Commerce, we are proud to serve our members as the designated National Association of Manufacturers (NAM) Affiliate and the US Chamber of Commerce (USCOC).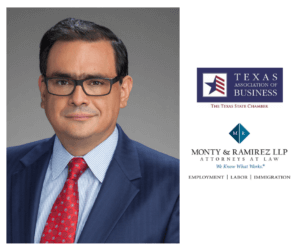 "It is our pleasure to welcome Jacob Monty to TAB's Board," said Jeff Moseley, president & CEO, TAB.
Advocacy is essential to a business' bottom line. State and Federal policies and regulations are being decided each day in Texas and Washington, D.C. but, most companies do not have the time or resources to advocate for themselves. Led by the Board of Directors, TAB is the business's voice focusing on issues that will collectively benefit the state's business climate.