Applicants can now check if they are "legal" and eligible to work for a company
On August 15, 2011, the government expanded the availability for individuals to "self-check" their work authorization status with government records. The United States Citizenship and Immigration Services ("USCIS") expanded its E-Verify Self-Check Service("Self-Check") to residents of 16 additional states (an increase from 6 states) and provides individuals with a choice of completing it in English or Spanish.
In March of 2011, USCIS started the self-check service to residents from Arizona, Colorado, Idaho, Mississippi, Virginia, and the District of Columbia. This online service enables individuals to check their work authorization status prior to being hired. One of USCIS' goals is to provide individuals the opportunity to correct database errors and other irregularities which may exist in government records. Although USCIS hopes this will decrease the number of E-Verify tentative nonconfirmation ("TNC") or even a Final Nonconfirmation ("FNC"), I am not sure whether USCIS will achieve its goal with this online tool.
Here is an image from USCIS demonstrating the 22 states where Self-Check is available to individuals: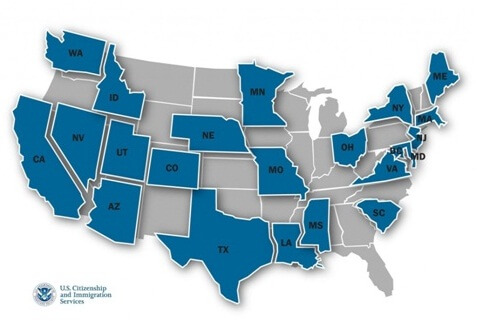 California
Louisiana
Maine
Maryland
Massachusetts
Minnesota
Missouri
Nebraska
Nevada
New Jersey
New York
Ohio
South Carolina
Texas
Utah
Washington State
Interestingly, in the 6 pilot states that launched Self-Check in March 2011, approximately 18,000 individuals have used the system to verify their employment authorization status with government records.
So what do employers do now? Well, the Self-Check system is for individuals to check their work authorization with E-Verify records. From an employer's perspective, this government online tool is set up for employment candidates seeking employment (who are not yet employed), not for employers. So it is important to not ask your employees who have already been I-9'd to Self-Check their work authorization through this system—that would set your company up for a possible claim of discrimination. Remember that once an employee I-9 is properly completed, an employer cannot ask that employee to establish,once again, that they are authorized to work in the U.S. Overall, the Self-Check system is not an online tool for employers and only time will tell if this system will decrease the number of errors associated with E-Verify.
Please remember this blog provides general recommendations regarding an employer's I-9 compliance. If you have any questions related to your company's I-9s or related policies, please don't hesitate to contact Monty & Ramirez for a free consultation to discuss your internet policies to ensure the policies comply with the ever-changing social media and internet issues.
Daniel N. Ramirez is a named partner at Monty & Ramirez LLP. He is board certified in labor and employment law by the Texas Board of Specialization and has been recognized as a Rising Star by Super Lawyers magazine.
Daniel's Contact Information:
Email: dramirez@montyramirezlaw.com
Telephone: 281.493.5529
Website: https://test.montyramirezlaw.com/2016